While starting a business, one needs an online presence for more growth and upliftment in today's world. We know it's not easy to start a business; it requires expertise, a team, and a lot of capital to invest in the start. With WordPress Hosting, you need no money to invest in starting your website. You can set up your WordPress website for free instantly. All you need to do is look for a Free WordPress Hosting provider who fulfills your needs and requirements so that they can host your website on the internet. Further, we'll look into the fastest free WordPress hosting providers globally-
Fastest Free WordPress Hosting Providers
Without risking your hard-earned money in the starting of your business, opt for one of these free WordPress hosting providers to host your website-
GoogieHost
Established in 2012, GoogieHost has been providing totally free web hosting services to its customers. With GoogieHost, you will get an easy ranking of your website with unlimited themes and plugins for your WordPress website's smooth and remarkable work. GoogieHost provides an excellent knowledge base with an easy one-click installation of your CMS (content management system), i.e., WordPress. Features- Here are certain remarkable features offered by GoogieHost-
Blazing Performance
LiteSpeed Caching Technology
No Forced Advertising
NVMe SSD Boosted
Knowledge Base
One-Click Installation
Plans and pricing- A screenshot is attached to showcase the free and cheapest premium plans offered by GoogieHost-
Awardpsace
With a chance to create your WordPress website with a free sub-domain, an e-mail, MySQL database, access to their control panel, and a file manager, AwardSpace is offering free WordPress Hosting to its users! AwardSpace provides the best free WordPress hosting to small or initial stage business owners and has been excelling at offering them since 2003. Features- What does AwardSpace have in the box for you?
100% No-Ads
Raid Redundancy
Free Subdomains
99.9% Network Uptime
Name@Domain.com- Email
Amazingly Fast Support
Plans and Pricing- AwardSpace offers free WordPress Hosting but also has some premium plan hostings. A screenshot is attached to look into the premium plans and pricing offered by AwardSpace on its WordPress Hosting-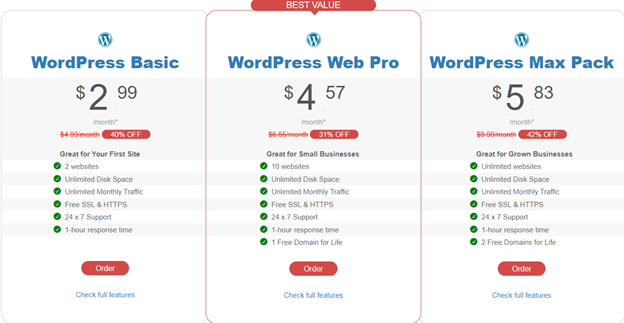 InfinityFree
In the process of serving 400,000 customers worldwide, InfinityFree has been providing free WordPress Hosting to its clients with stunning features and constant availability. InfinityFree demands no fee to set up, and you'll get to host any domain of your choice, but they lack in providing customer support for their clients. Features-
Fastest Free Hosting
99.9% Uptime
Unlimited Hosting
Completely Free
No Ads on Your Site
Host Any Domain
Plans and Pricing- InfinityFree, as the name suggests, offers free WordPress Hosting. It also has some premium plans for the customers who like to upgrade-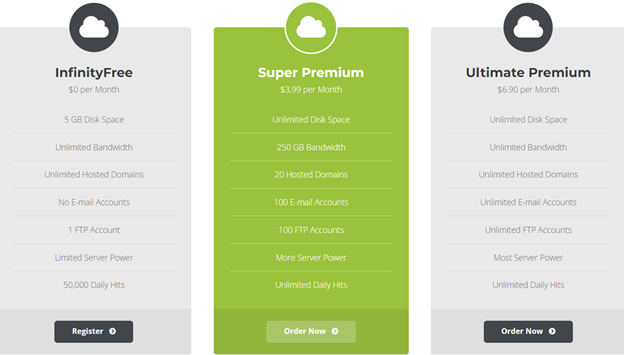 WordPress.com
WordPress.com has been the most reliable, fast, and brilliant WordPress Hosting provider from the beginning. With more than 409 million visitors every month, many bloggers, community organizers, and business owners prefer WordPress.com as their first choice. They do step back or lack from anywhere to provide the best WordPress hosting-
Lightning Speed
Better Security
More Bandwidth
200 GB Storage
Range of Themes and Plugins
Powerful Search Engine Optimization
Less Hassle
Global Content Delivery Network
Free Domain
Daily Backups
Live Chat and Email Support
Premium Themes
Plans and Pricing- You can start for free. Here, we have attached a screenshot of the current premium plans, WordPress.com is providing-

What do we look for when Choosing Free WordPress Hosting?
While looking into the requirements of WordPress Hosting, you should consider these factors- Your website's response and working time should be really fast. Ensure the WordPress hosting provider guarantees you 99.9% uptime to avoid downtime on your website.
Premium Themes and Plugins
There are a variety of themes and an infinite number of plugins that a WordPress hosting company should be providing with their plans to create a unique website. Better security measures with WordPress firewall installed. Regular checks on the malware activities and prevention of unknown attacks should be considered. You must look into more factors like staging sites, server-side caching, storage, bandwidth, and others that are important for your website to run. Reliability is essential, but you should always prioritize your needs before choosing WordPress Hosting!
Why Speedy and Fast Websites are Important?
Speed is an important factor when you're building a website. Fast speed ensures a proper and instant response from the servers when the user clicks on some data. Slow speed makes a user leave the website and consider your competitors. So, if you do not want to lose potential clients and want visitors to hit the back button, make sure that your website remains live and faces no downtime. Even ensure the response time of your website. Regular checks and testing of the website are important to continue the smooth running of a website.
Conclusion
Fastest Hosting for WordPress is an easy task to find, but it all depends on your needs to determine the right one for yourself. Talking about free WordPress hosting, it remains ideal for the initial stage of your business or blogging. But if your business starts flourishing or for the websites which incur money, prefer paid or premium WordPress hosting for a better and smooth running of your website. So, choose or upgrade accordingly! We hope you got informative content about Free WordPress Hosting, how it works, its providers, and what factors you should look into before starting your WordPress website. Have you ever tried and tested Free WordPress Hosting? We'll be happy to hear about your experience as well as answer any of your questions.